Lord Ashcroft Polls - May 2023
Support in Canada for keeping the monarchy is lowest in the Commonwealth realms at 23%.
- 47% want a republic, 30% don't care either way
- In Jamaica, which plans to become a republic in 2025, 49% want a republic, 11% don't care and 40% prefer to keep the monarchy.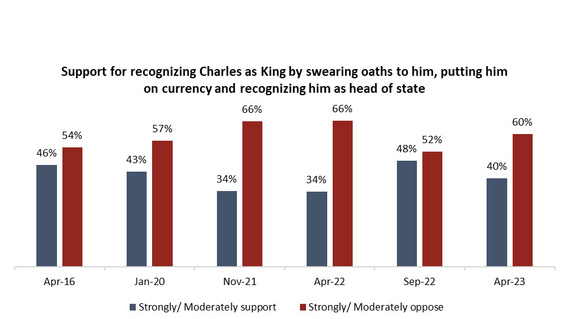 A majority (60%) oppose King Charles as Canada's head of state, a significant jump from September 2022, when under half (48%) of Canadians opposed recognizing Charles as King of Canada. The massive difference is suspected to be due to sympathy for the royal family following the Queen's death. The 60% disapproval rate appears to be a return to levels consistent to when he was prince.
Continued ...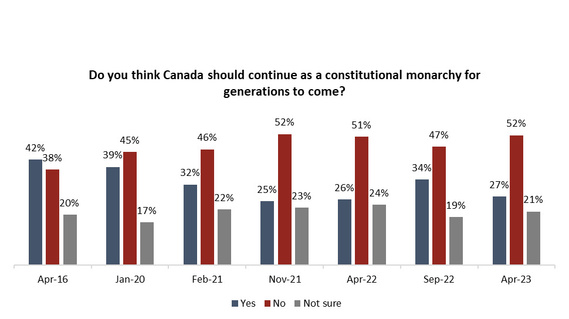 The April 23 data also finds half (52%) of Canadians do not want Canada to continue as a constitutional monarchy for generations to come, up 1% from 2023, versus 27% who do and 21% unsure.
Other data:

✓ 64% oppose swearing oath to King Charles & singing "God Save the King" at official ceremonies
✓ 62% do not want to see Charles on currency
✓ 66% do not want Camilla to become Queen of Canada
Only 26% want to continue as a monarchy for generations to come.
91% of those who want it to end believe it's worth changing the constitution to allow it, despite the difficulty.
Half of Canadians say the Royal Family is no longer relevant to them personally, while 23 % say it is just as relevant as ever, or more so (2%).
"Barbados' decision last year to take this step is seen by some as the first in an inevitable cascade of nations looking for this extra degree of independence. For their part, Canadians feel that countries making this decision are following the right path – three-in-five say this (58%). Furthermore, those who do not say it is the right decision largely withhold judgement, while one-in-twelve (8%) say that this is the wrong choice."

Thinking of Canada's constitution, would you prefer that Canada remains a monarchy or has an elected head of state?

Monarchy - 21%
Elected head of state (Republic) - 49%

No preference - 31%

"Only 21% of Canadians say that, thinking of Canada's constitution, they would prefer for the country to remain a monarchy, down three points since a similar Research Co. poll conducted in February 2021 and the lowest level recorded in six separate surveys since 2009."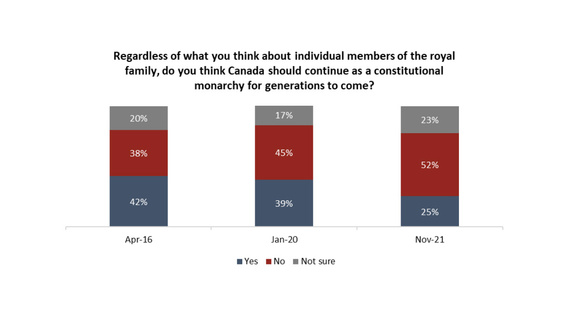 While Queen Elizabeth remains on the throne, 55 % said they support her as Canada's official head of state — a significant decline from the 64 % in 2016.
Should the queen step down or die, enthusiasm for the monarchy drops further, with 66 % saying they are opposed to recognizing "King Charles" as head of state, a figure that has increased from 54 % in 2016.

When asked whether Canada should remain a constitutional monarchy in future generations, 52 % of respondents said no, more than double the 25 % who said yes.
72 % said the royal family is no longer relevant to them or are becoming less relevant, up six percentage points from 2020.
53% of Canadians think that the British monarchy is out of date and no longer has a place in the 21st century, while 33% think it is part of our history and should be preserved.

43% of Canadians think the revelations by Harry and Meghan in Oprah's interview suggest that the Royal Family holds racist views.